Warning: file_put_contents(\\WDP\DFS\30\9\5\2\3073351259\user\sites\4775023.site\www\ThePenProfessor\MyLog.txt): failed to open stream: Permission denied in \\WDP\DFS\30\9\5\2\3073351259\user\sites\4775023.site\www\ThePenProfessor\Main.php on line 733

| | |
| --- | --- |
| Handmade pens, bowls, jewelry and other gifts for men and women | |
---
A Few Words About the Pens
I create custom, handmade pens one at a time on a small lathe in my small workshop. Because I do not like to rush my work, each hand made pen takes about 2 hours to make. Since my goal is to produce only the finest quality handmade writing instruments, I look for the finest domestic and exotic hardwoods as well as the best, smoothest working pen mechanisms with the highest quality precious metal platings.
My goal in making hand made pens is to emphasize simple elegance; that is, I do not like to distract from the natural beauty of the wood or the natural luster of the precious metals (gold, rhodium, titanium, ...) used in each pen.
The Different Styles
On this page, you will find examples of the various styles of handmade pens that I currently have in stock. Some styles, such as Cigar and Aero, make excellent gifts for men. Because of their larger size, they have a certain "heft" that suggests substantial quality. Other styles, such as the Slimeline, Beaded and Presidental are great for smaller hands or to carry in a shirt pocket because of their lighter weight. Please keep in mind that if you do not see the pen that you want, I may be able to make it for you at no additional cost. Just send me an email.
Packaging and Shipping
My pens are packaged in a hard gift case similar to the one shown here. This hefty case has a leather-like exterior with gold trim and a white satin interior. The cost for shipping and packaging is indicated with each pen. I ship by domestic Priority Mail, which according to the U.S. Postal Service, takes 2-3 days for delivery and I make every effort to ship within 1-2 business day of receiving your order.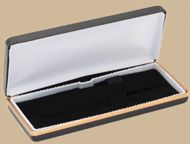 Pen Care, Platings, Refills and Mechanisms
Click here for information about the platings, refills and pen mechanisms used in my pens (including how to change refills).
---
The Pen Styles
---
A medium-sized modern pen in either twist or click style.

---
A decorative smaller pen with a nice beaded center band.

---
A classic larger-sized pen. Very popular as gifts.

---
A larger-sized click pen with no center band.

---
A postable rollerball; that is, the cap screws onto the pen on the end opposite the tip.
---
A sleek looking pen with a spring-loaded clip that adjusts to fit different pockets. (The clip is therefore looser than on other pens.)

---
A very popular thinner-style pen. This is the one I prefer to carry in my pocket, because it is very light weight.